Horseback Riding
Our trail is a 3.5 mile mountain ride with beautiful views of the Great Smoky Mountains
Our horses are selected for their good temperament and disposition. With over 80 head of horse, we do not have a weight limit but sometimes the larger horses are out. If you wish to ride and weigh over 250 lbs, please contact us to be sure we have a horse to accommodate you during your visit. An additional charge may apply.
Our horses are in great shape and we are extremely proud of our Gilliham and Associates #1 Rating for safety (a very difficult rating to acquire). This rating is a result of our strict guideline for safety. Every rider is asked to view a 4-minute safety video prior to loading.
Our loading ramps are designed so that you do not have to pull yourself up into the saddle. All the rider must do is place their hand on the saddle horn and throw a leg over the horse and they are ready to ride.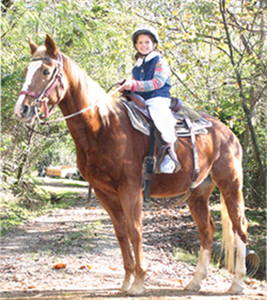 V.I.P. rides are available for small children
Safety helmets are available for every guest upon request
Our horses receive food and water at all times when not working the trail
Our stables are the cleanest and safest in the area
Big Boy Horses okay when available
We're sure that your ride will be enjoyable
and your family will make a great memory!